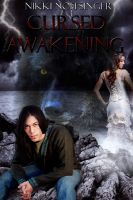 Ivy Morgan has re-invented herself and is looking forward to the future for the first time, in a very long time. Since fleeing for her life from an overzealous religious cult, she is able to be a modern woman that is gaining her independence; so taking up with a sexy stranger named Nyx is the last thing she needs. Or, is it?
Nyx Wahpeton can't stop thinking about the young woman he's met. It couldn't have come at a worse possible time; with the clans meeting and his family wrapped up in a centuries old war that's nothing short of what horror movies are made from. He's been a protector of his people and those that reside at the Reservation. There's betrayal and evil at his front door; but, in his heart he knows Ivy is the one for him. She's surrounded by secrets that he's vowed to unlock, as well as her heart. However, can he keep her safe from his own secrets?
Excerpt:
His hair fell in waves past his shoulders, those brilliant blue eyes were enough to stop a heart dead in its tracks. He was dressed in a long sleeved American Eagle Outfitters shirt that matched his eyes perfectly. Nyx winked at her, and she winked back before she headed off to table nineteen. Nyx scanned the restaurant and probed out with his senses. Everything was on the up and up. Grady, the manager came through the kitchen into the restaurant in order to flip the "We're Open" sign off. The man looked exhausted. He looked at Nyx, "Hey how ya doin' Nyx?" he asked.
"I'm fine. You look like you've been busy today." Nyx greeted.
"Busy…busy doesn't even come close. Usually I wouldn't argue with good business, but I'm not as young as I used to be." Mr. Grady sighed.
"Ah, you're not old Grady. You're the same age as my old man and he hasn't keeled over yet." Nyx mused but in truth, while his dad looked middle-age he was well over one-hundred years old.
Mr. Grady smiled and went back to the kitchen. Ivy came over and slumped into the seat beside Nyx. He wrapped an arm around her shoulder and kissed her cheek.
"You might not want to get too close…I'm sure I stink! I've been busier than a one legged man in a butt kicking contest and seriously I think I'm the one that's been getting kicked!" she joked.
Nyx laughed and then whispered in her ear, "Ivy, I could think of a lot better things to do with your 'butt' as you put it except you'd have to be naked first." She blushed.
"You are bad! Very, very, very bad!" she mock chided.
"You don't know how bad I can get where you're concerned! I am thinking of going for wicked!" his voice was sinfully delicious, sending tremors through Ivy's body.
"Ivy, table seven needs you, they're ready for their check!" Alisha called out.
Ivy rose and gave Nyx a quick peck on the cheek before heading off to table seven. At ten o'clock Ivy finally clocked out, turning in her apron and pad. She came through the kitchen doors where Nyx was standing waiting for her with a devilish look on his face. She said good-bye to Alisha who had volunteered to help Bill with the kitchen clean-up.
"So are you off?" Nyx asked.
"Yeah and I am off all day tomorrow too! Thank God because I don't think I could lift anymore feeding troughs." She laughed.
"Give me your keys! I'll drive." Nyx offered.
Ivy fumbled in her Hello Kitty knapsack, pulled out her keys and dropped them in his waiting hand. Nyx put an arm around her, pulling her close as they walked out the door and into the parking lot. They headed over to Lorna's cherry red 1970 Chevelle SS. Nyx's jaw went slack as Ivy noted the definite interest he had for cars. "It's just a car Nyx!" she teased.
"That is not a car, Ivy! Damn, that is a thing of beauty!" he retorted.
"Ah well it's just a car to me! An engine with four wheels that gets me from point A to point B." She mused.
Nyx walked her to the passenger side door, helped her in and then slid in the driver's seat. The man actually looked as if he had just walked into Disney World or something. "Ivy…it's more than just an engine and wheels! You just watch, baby. Let me tutor you on just how spectacular this car is!"
Ivy rolled her eyes and pulled the seat belt into position. Nyx started the car and burned rubber out of town onto the country roads. When they finally stopped it was just outside of town at Piedmont Lake. He parked between two trees and got out. He strolled over to Ivy's door, opened it and offered her his hand.
"Wh-What are we doing here?" she asked.
Nyx didn't say anything as he stood and pulled off his shirt. He walked over towards Ivy and kissed her as he started to unbutton her white shirt. She frantically put her hands on his and pulled back, "Nyx! What are you doing?"
"Well actually I'm un-doing! Come on, it's a warm night and a swim would do you some good!" he answered.
"Ivy!" he answered trying to mimic her voice.
She giggled but still was adamant about not getting naked in public.
He stepped back and then started to unbutton his pants. Ivy felt her whole body turn into molten liquid Nyx never missed a beat though; he just kept undressing until he was completely naked. He stalked over towards her and she took a few steps backward. "Nyx…what are you doing?" she asked cautiously.
"Well since you won't take your clothes off, I guess I'll just have to toss you over my shoulder and throw you in clothes and all!" He kept coming closer.
"You wouldn't dare! Nyx… I can't swim!" she screeched as she headed to the other side of the car.
"That's okay Ivy; I don't plan on letting you do any swimming! I promise, I won't let you drown. I'm a good swimmer! I'm good in the water period!"
He tracked her like a predator. He was slow and calculated. Ivy tried to watch his every movement. "Nyx…okay give me a minute to get my clothes off!" she finally relented.
She took her shirt off and then her pants, socks, and shoes. She left her bra and panties on.
"Nah, you're still overdressed Ivy!" he said with his arms folded over his chest.
"Well toooo damn bad! When we get caught out here, I don't want to be naked as babe when we're arrested!" She said still keeping a fair sized amount of space between them.
He smiled and crouched down as if he were getting ready to spring. Ivy screeched and took off running. Before she knew it, he had her up in his arms and they were laughing. When he started walking into the water, she wrapped her arms around his neck tightly and let out a fairly good yell when the cold water hit her skin. Nyx stood her up seeing as they were in a shallow part where the water came up to her shoulders.
Prize: $5 e-Gift Certificate to Amazon, Barnes & Noble, or to ARe Romance
Prize is open to international winners
Leave your comment below for your chance to win!
You can enter daily by simply leaving a comment (not just your name and email address) on each and every post. Every comment earns you an entry for the prize of that day, as well as the Grand prize listed above!
In addition to th
e above mentioned entries, you
can increase your chances of winning by complet
ing some
or all of the below requirements!
a Rafflecopter giveaway